I Completely Believe In Neuroplasticity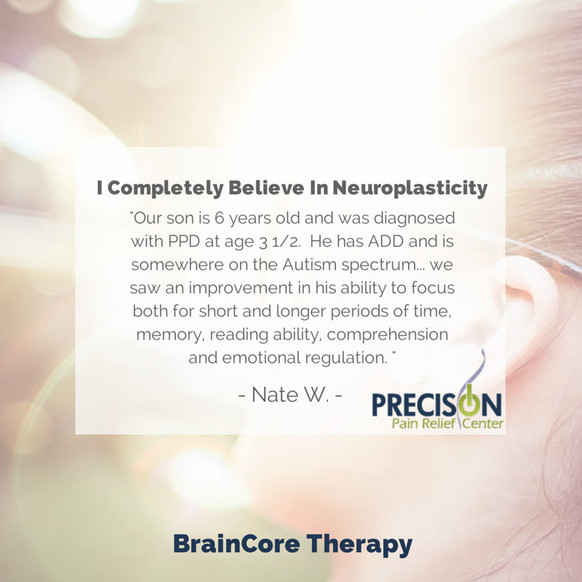 Dear friends:
Our son is 6 years old and was diagnosed with PPD at age 31/2. He has ADD and is somewhere on the Autism spectrum. We have done a great deal of therapy with him in addressing his different needs for speech, physical therapy, occupational therapy, social skills therapy and such. We decided to try neurofeedback because despite multiple therapies we really wanted to reinforce the pathways that are normally present so that both hemispheres of the brain can communicate with each other. The computer sounded to us as if it would act as an external corpus callosum.
We started at Brain Core in the spring of 2013 and ended at the end of the summer.
Our best and most reliable way of monitoring our son's progress wasn't necessarily the testing that was done in the office or even what we saw each day but what other people noticed at summer camps, school and what the therapist saw. Because we see our son each day it can be difficult to see small changes and even big changes are easily missed.. The questionnaire that one fills out at Dr. Capoferri's office will help tremendously with this. Behaviors that currently you might feel absorb your world may become distant memories to you.
Often we heard of and read dramatic results after only a few visits. Our results took time. We can say however that we saw an improvement in his ability to focus both for short and longer periods of time, memory, reading ability and comprehension and emotional regulation. He was just finishing kindergarten when we started the therapy and started first grade just as the therapy finished and his teachers have remarked over and over that the change they have seen since last year is amazing. They have all said, "I don't know what you're doing but keep it up!" This has continued throughout the fall and we stopped the therapy back in late summer, so if you're wondering if these results are sustainable, as we did, the answer is yes.
After this experience I must say that I completely believe in neuroplasticity and frequently encourage people I know to try this therapy. I believe it can benefit those who have a spectrum disorder, ADD/ADHD, depression, trouble with emotional regulation, and sleep disorders. It's painless and drug free and there just isn't much therapy out there that targets the specific areas of your unique brain the way this therapy does. Further, this therapy sets out to help shape those pathways into something better.
I hope this letter encourages you toward this therapy and helping yourself or your child in this way. Dr. Capoferri started this clinic in order to help people and I believe he is earnest in his pursuit of helping to heal young brains. We are certainly appreciative of the care we received in his clinic!
Nate W.